Liam Hendriks is not only a star pitcher for the Chicago White Sox, but also a survivor of a deadly disease. In this blog post, we will tell you the story of how he battled stage four non-Hodgkin's lymphoma, recovered from chemotherapy, and returned to the mound in less than five months. We will also show you how you can support his cause and help others who are fighting cancer.
The Diagnosis and the Treatment
Liam Hendriks had a stellar 2022 season, earning his third All-Star selection and leading the American League with 37 saves. But behind his success on the field, he was hiding a secret that would shock the baseball world. In December 2022, he was diagnosed with stage four non-Hodgkin's lymphoma, a type of blood cancer that affects the lymphatic system. He had noticed lumps in his neck and hips since June 2022, but initial tests did not reveal anything abnormal. It was only after a biopsy that he learned the devastating news.
Hendriks did not waste any time to start his treatment. He announced his diagnosis on Instagram on Jan. 8, 2023 and began chemotherapy the next day. He underwent six rounds of chemotherapy over three months, enduring the side effects of hair loss, nausea, fatigue, and pain. He said he was scared and angry at first, but he never gave up hope. He credited his wife, Kristi, his medical team at Northwestern Memorial Hospital, and his support system of family, friends, teammates, and fans for helping him through the process. He also received messages of encouragement from other cancer survivors, such as Jon Lester and Anthony Rizzo.
In April 2023, Hendriks received the best news of his life: he was cancer-free. He celebrated by ringing a bell at the hospital and posting a video of him smiling and dancing on social media. He thanked everyone who supported him and said he was ready to move on to the next chapter of his life.
The Recovery and the Return
Liam Hendriks is not only a fighter, but also a competitor. He did not stop preparing for the 2023 season even while undergoing treatment. He said he was driven to return to the White Sox and help them win. He kept in touch with his pitching coach and trainer and followed a modified workout routine. He also threw bullpen sessions at a local high school field whenever he felt well enough.
Hendriks said he felt better than ever after completing his treatment. He said he had more energy and stamina than before. He also said he was able to pitch multiple innings if needed, something he struggled with in 2022. He speculated that his cancer might have affected his recovery and performance last year.
Hendriks started a minor league rehab assignment on May 5, 2023 with Triple-A Charlotte. He is expected to rejoin the White Sox in mid-May, just in time for their homestand against the Twins and the Yankees. He said he is excited to pitch in front of the fans again and show them what he can do.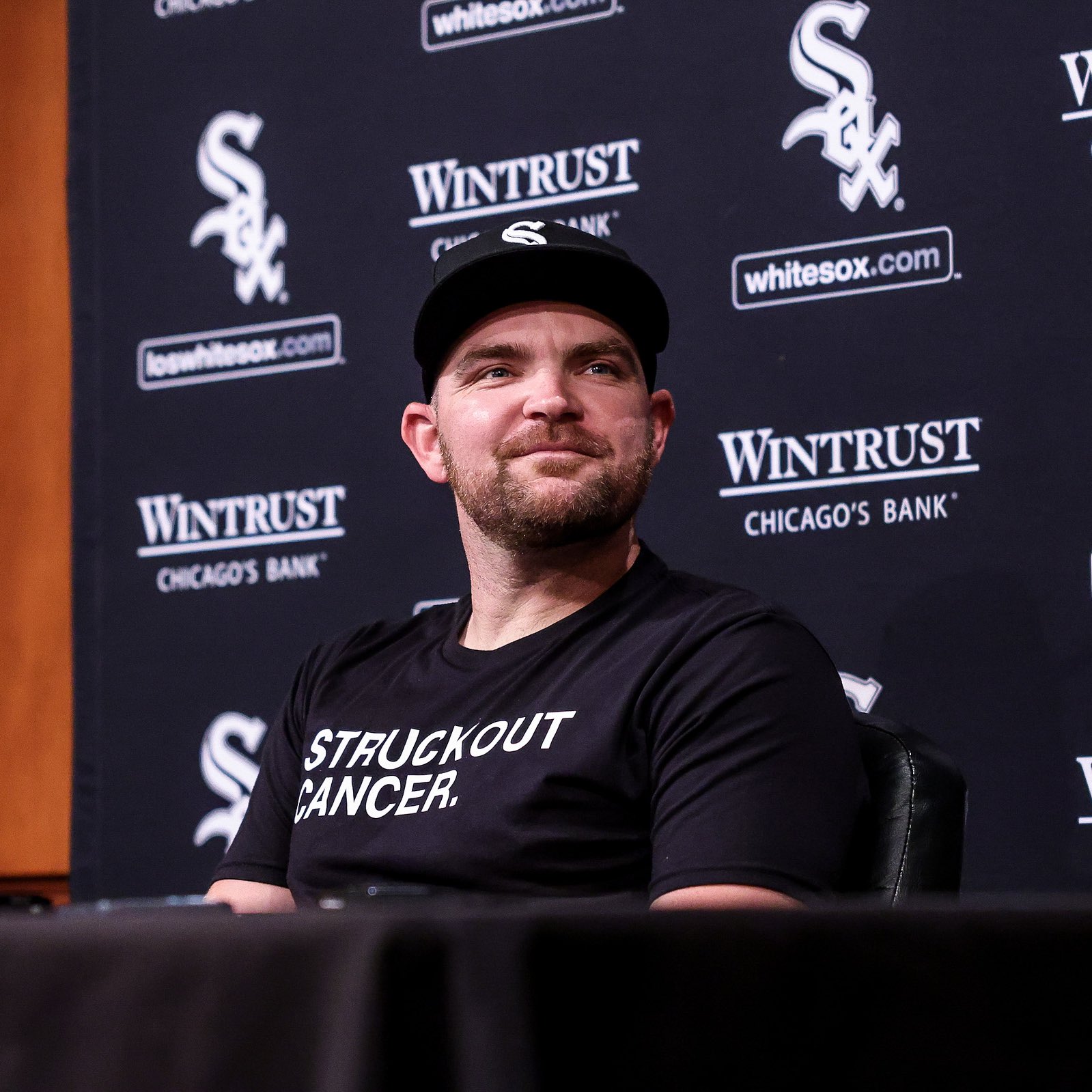 The Struckout Cancer Shirt and the Cause
Liam Hendriks is not only a hero, but also a philanthropist. Hendriks said he hopes the shirt will raise awareness and funds for the cause, as well as inspire others who are fighting cancer. He said he wants to use his platform to make a difference and give back to the community. He also said he plans to get involved with other LLS initiatives in the future.
Order this shirt here: https://eletees.com/product/liam-hendriks-struckout-cancer-shirt/
Hendriks said he is grateful for his second chance at life and baseball. He said he learned a lot from his experience and gained a new perspective on what matters most. He said he wants to enjoy every moment and have fun playing the game he loves.